Language shapes our structured world, but in fact every sentence we utter is an improvisation. That is the starting point for Orla Barry's performance & sound installation. She has used 57 words, an actor, a dancer and a musician to devise a work in which chance, fate, and a little witchcraft play equal roles in a performance that is never the same on any night. It is a show of shows, set in a décor of language objects. These objects are used as script generators.
The performers spin the wheel; with each word a scene is constructed. The order is random and the performers are at the mercy of the wheel and therefore of fate. There can be no dramaturgy. There is no possibility of building tension or controlling the narrative and the performance could extend endlessly. It is a work that plays with different forms of text production such as: the speech, the monologue, the interview, the poem and the song in order to create a series of intentionally unplanned crossovers between text, object, meaning and performance.The performers jump from one character to another, from one atmosphere to another in arbitrary succession. In this collaborative work the performance act becomes a kind of mimesis. It arouses and purges each association nearly as soon as it has been constructed, leaving an ellipsis.
Ludwig Wittgenstein calls this "the inner visual room" in his philosophical investigations: "399-400: one could say: surely the owner of the visual room has to be the same nature as it; but he isn't inside it and there is no outside. The visual room seemed like a discovery as it were; but what its discoverer really found was a new way of speaking, a new comparison, and, one could say, a new experience."
For the sound installation what is left is a scene without figures. Only the memory of their presence & actions exist through sound. Like the floating the voice-overs of Orla Barry's early video works the performance transforms itself into a tableau made of words. Ghost voices on an unplanned loop as broken language in space.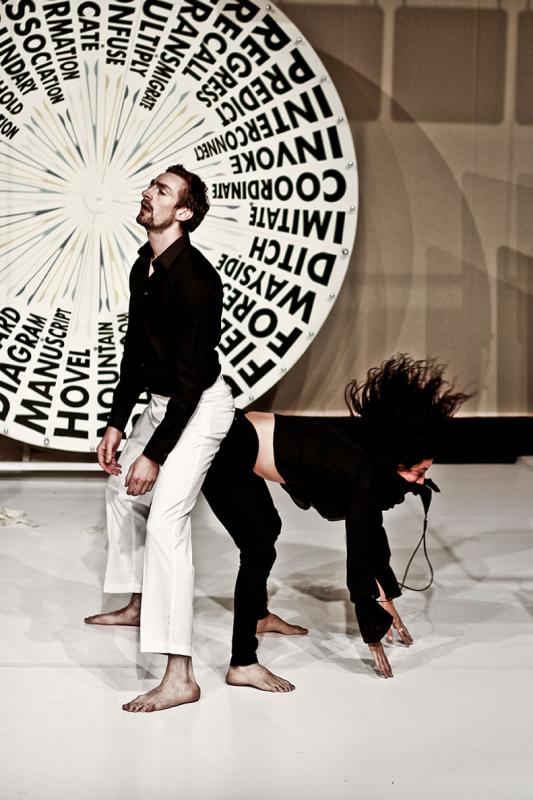 Ok can I invoke? Ammm… let me think… let me think...let me think!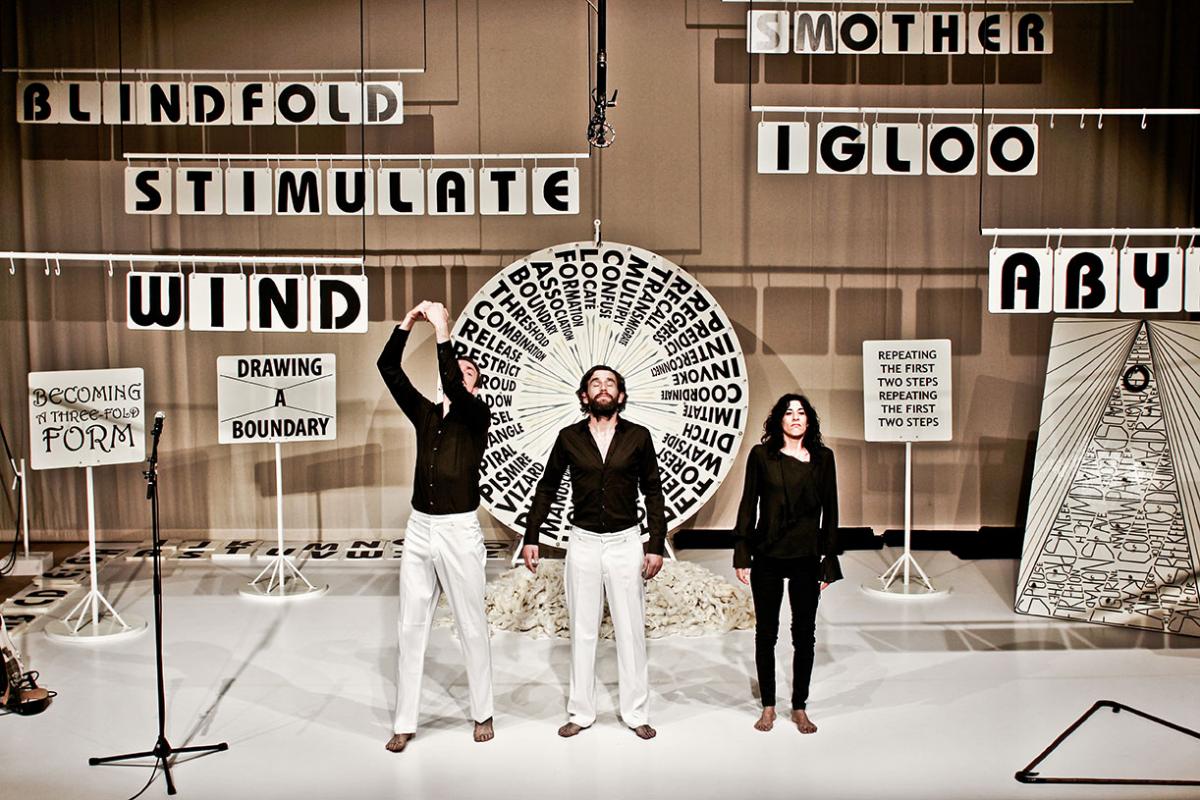 Man-child, woman-child, going back to being a child.
Being a child while being a human adult
You are a ballroom lady. Manacle in your eyes.
Romance is a dirty word. Moonshine is breaking glass.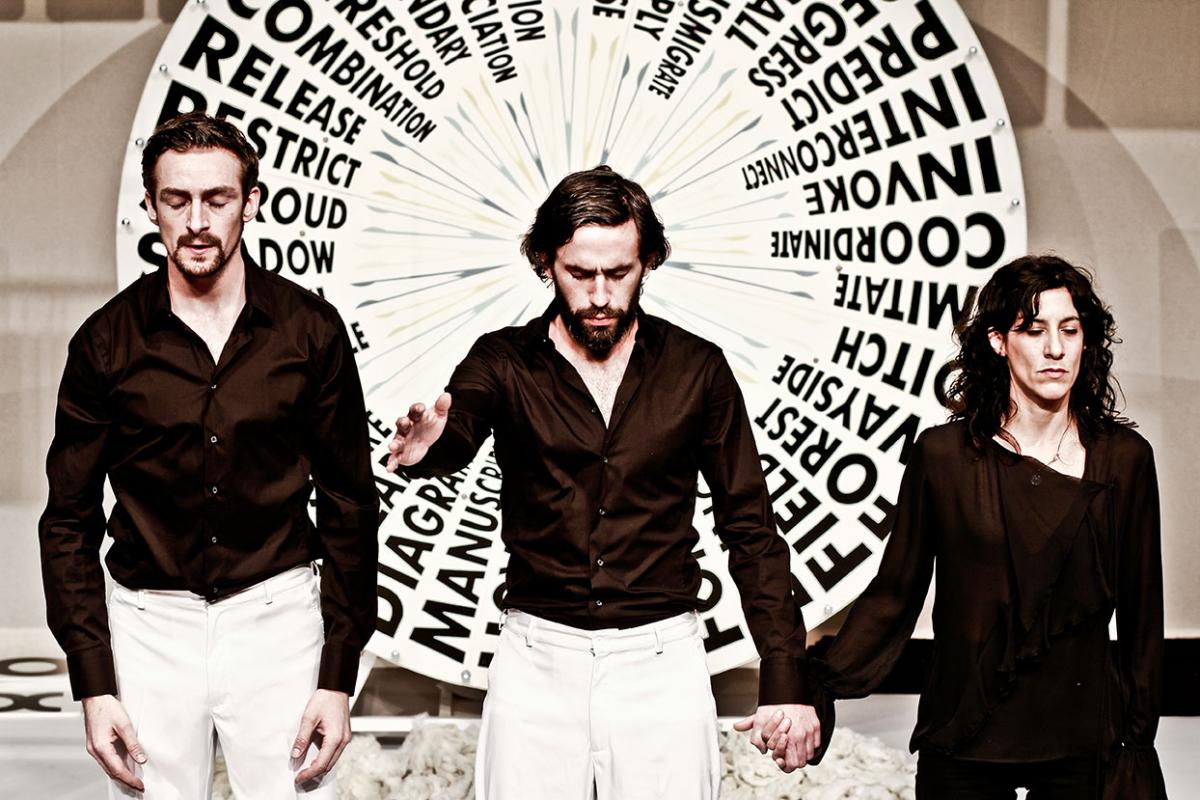 She collects all opposites in one image.
She wants to make the whole room move to the sound of her laughter.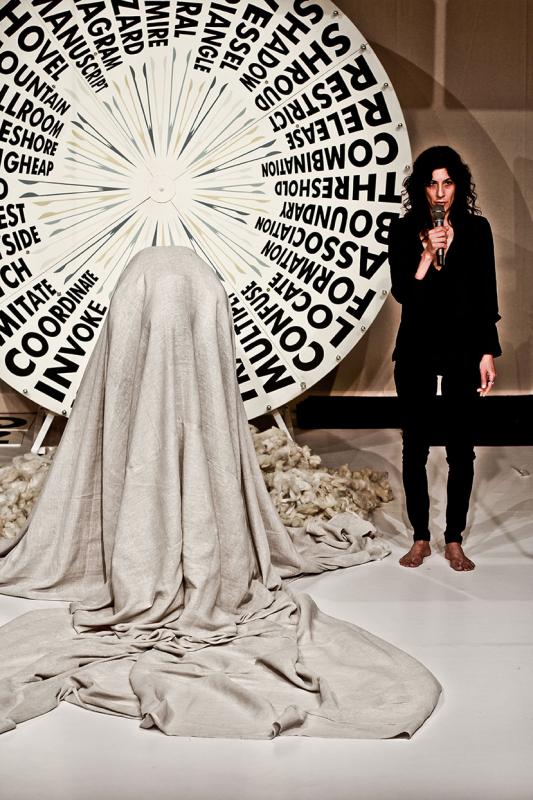 It is similar jumping into my own shadow.
I can jump into my own shadow in order to regress
and then i can see into the future.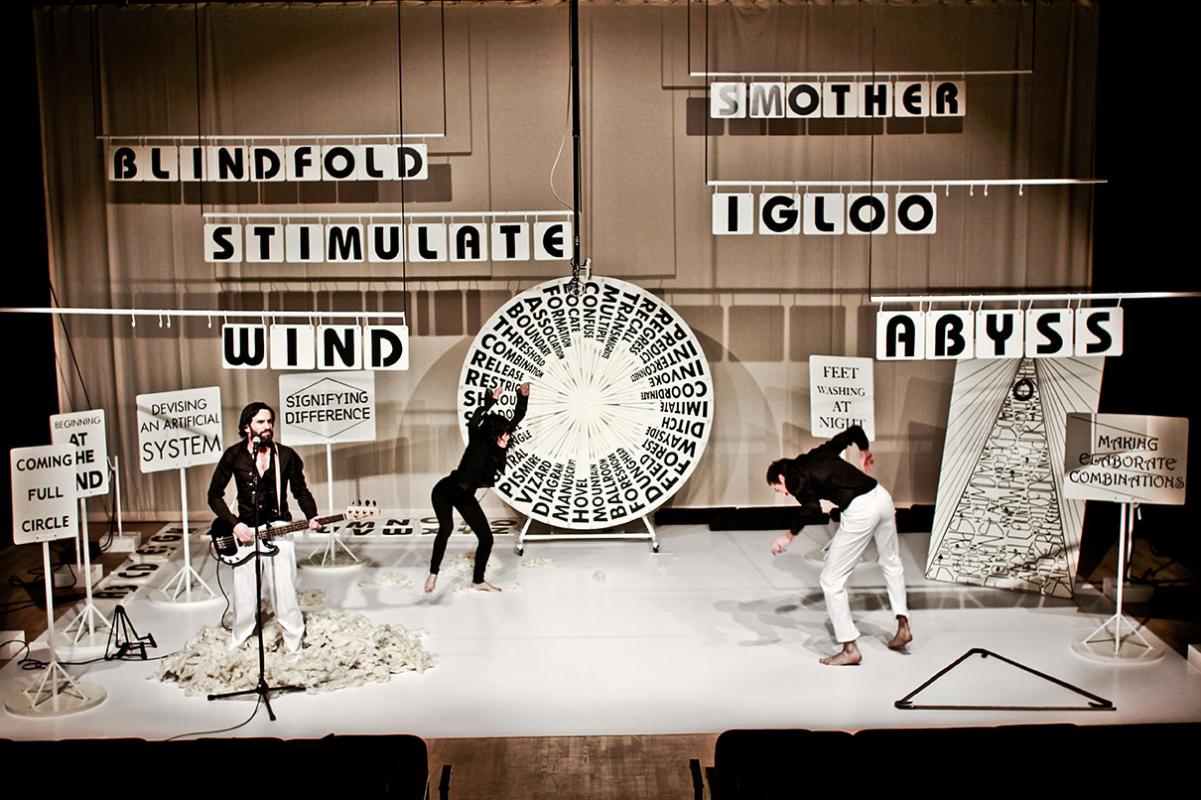 You are torture to my lips, offering nothing, except inquisition into flesh...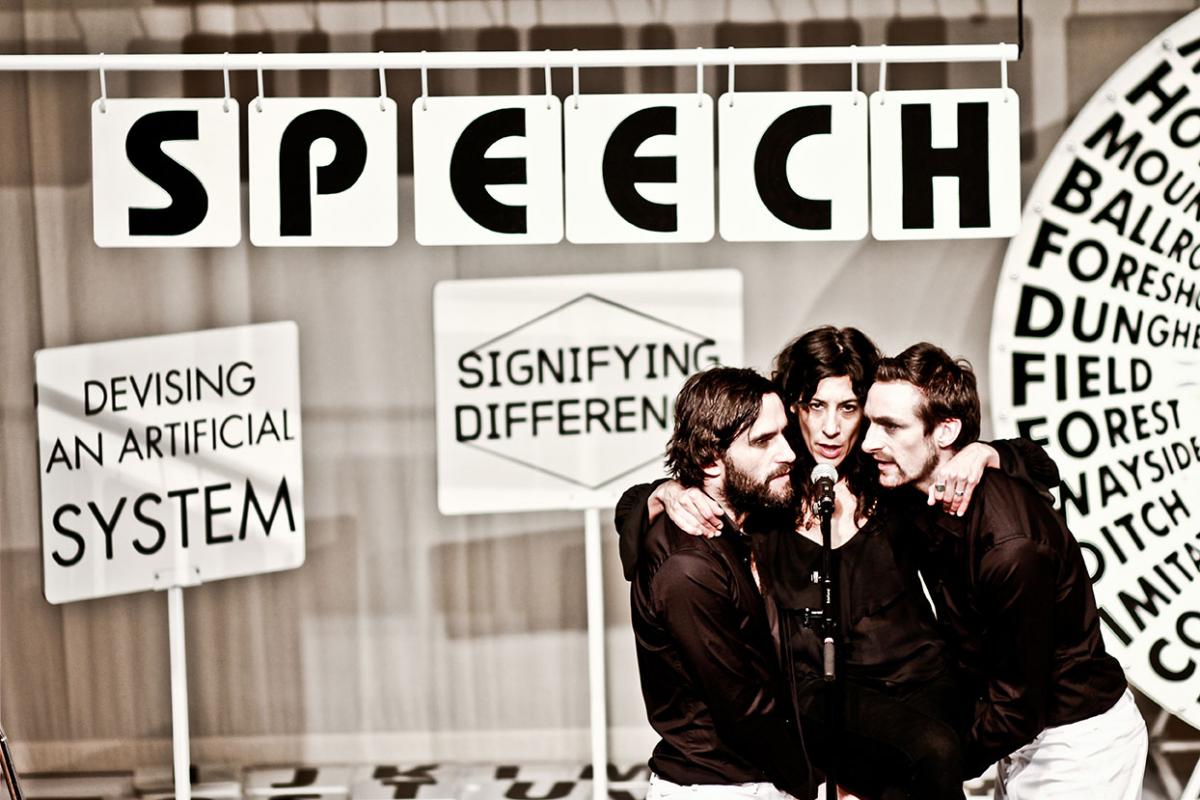 We watched television together, and we knew...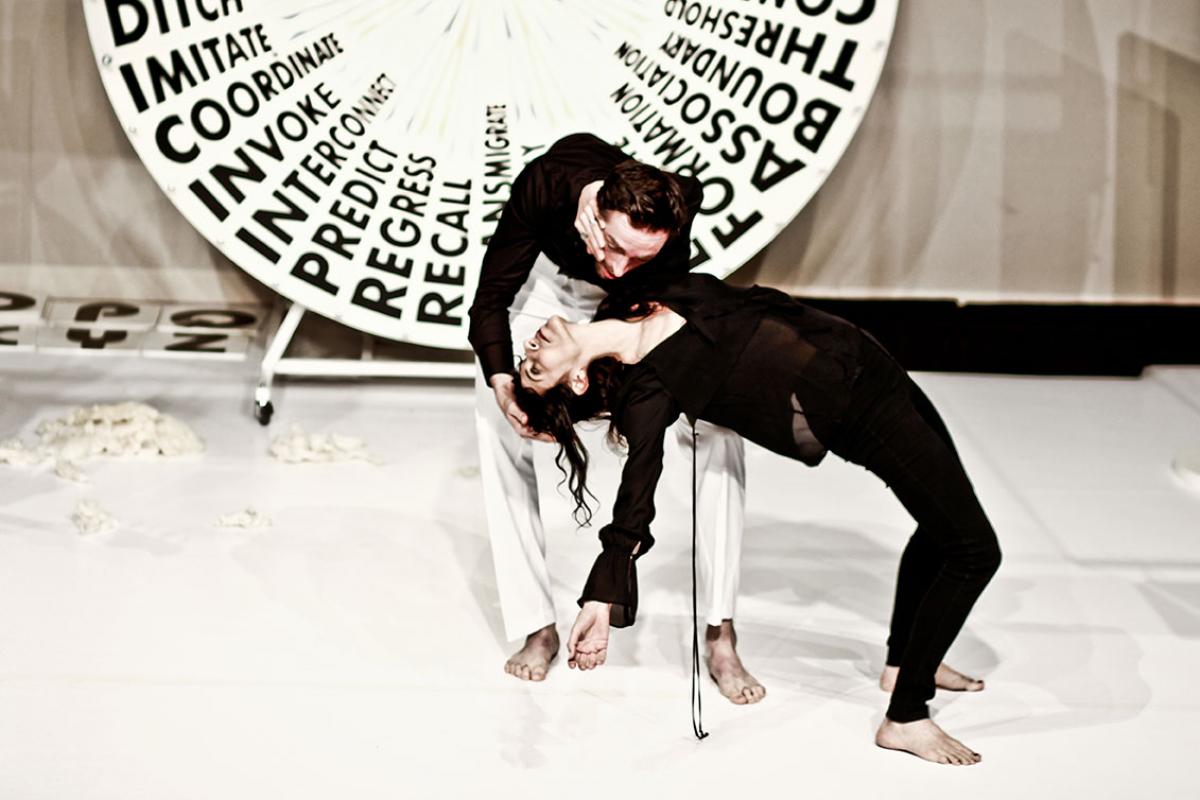 Thickness in the air… Double vapor...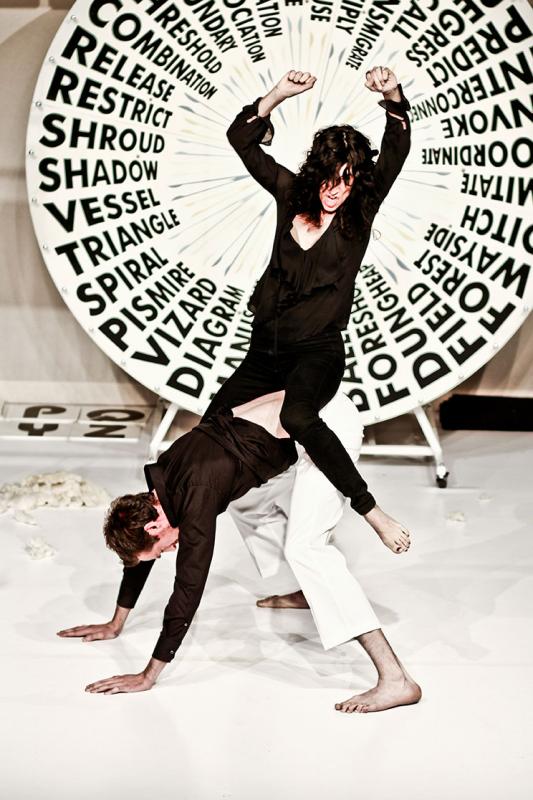 As they shag the spirits of the forest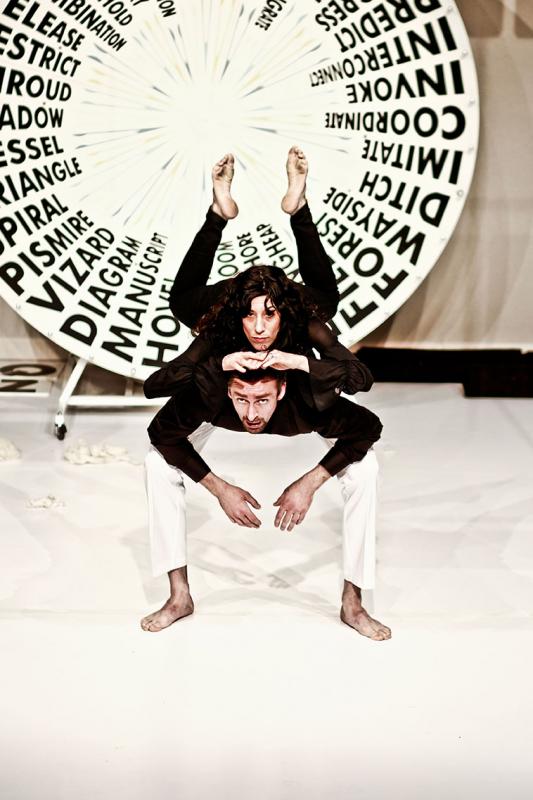 Can we interconnect to talk about the shadow of progress?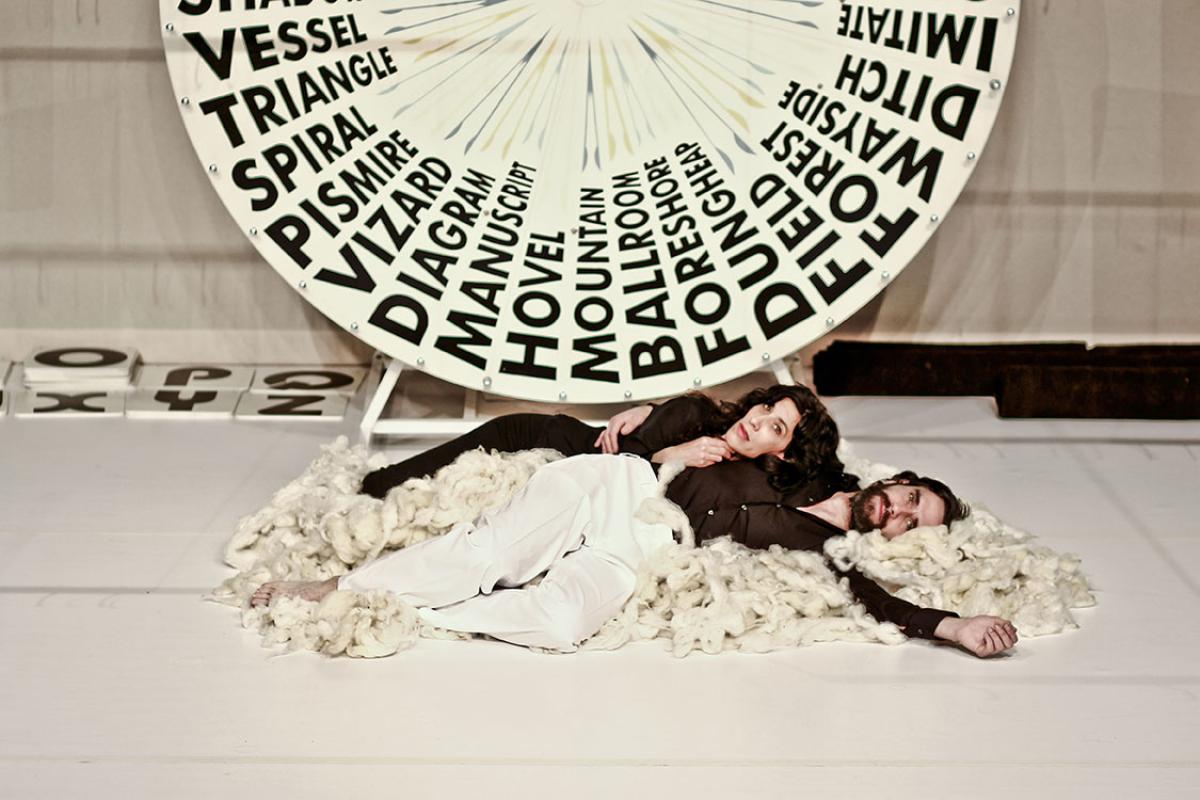 Here the nymph of spring is naked and masturbating…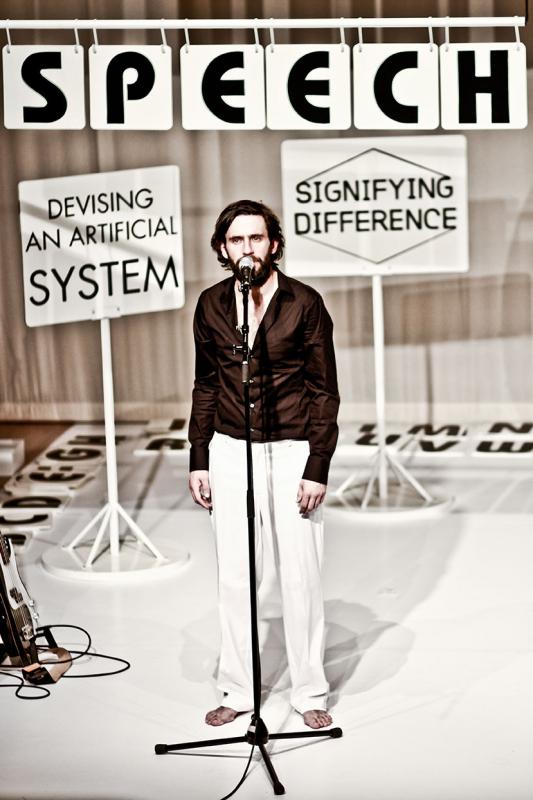 He sits on the dung heap, so that he might consider
the substance of his flesh and how quickly it returned to stench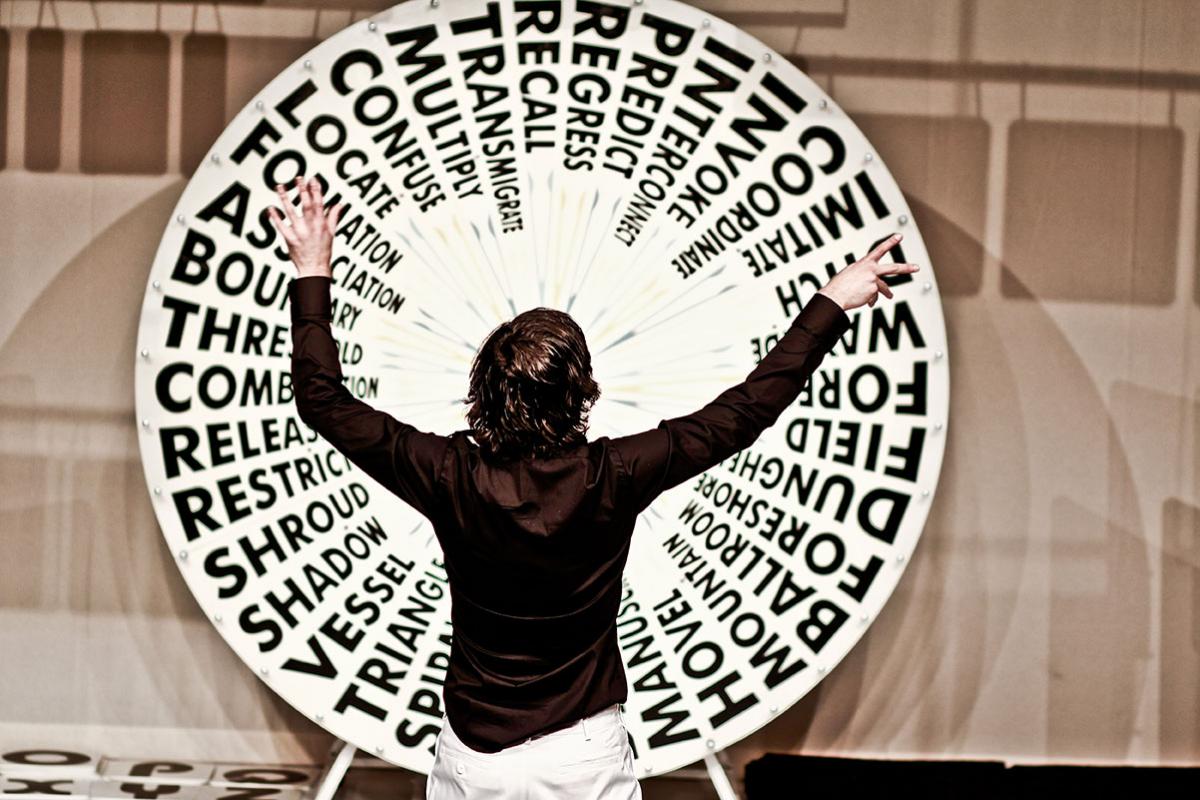 Our bodies are vessels… this room is a vessel… you are vessels taking all this in!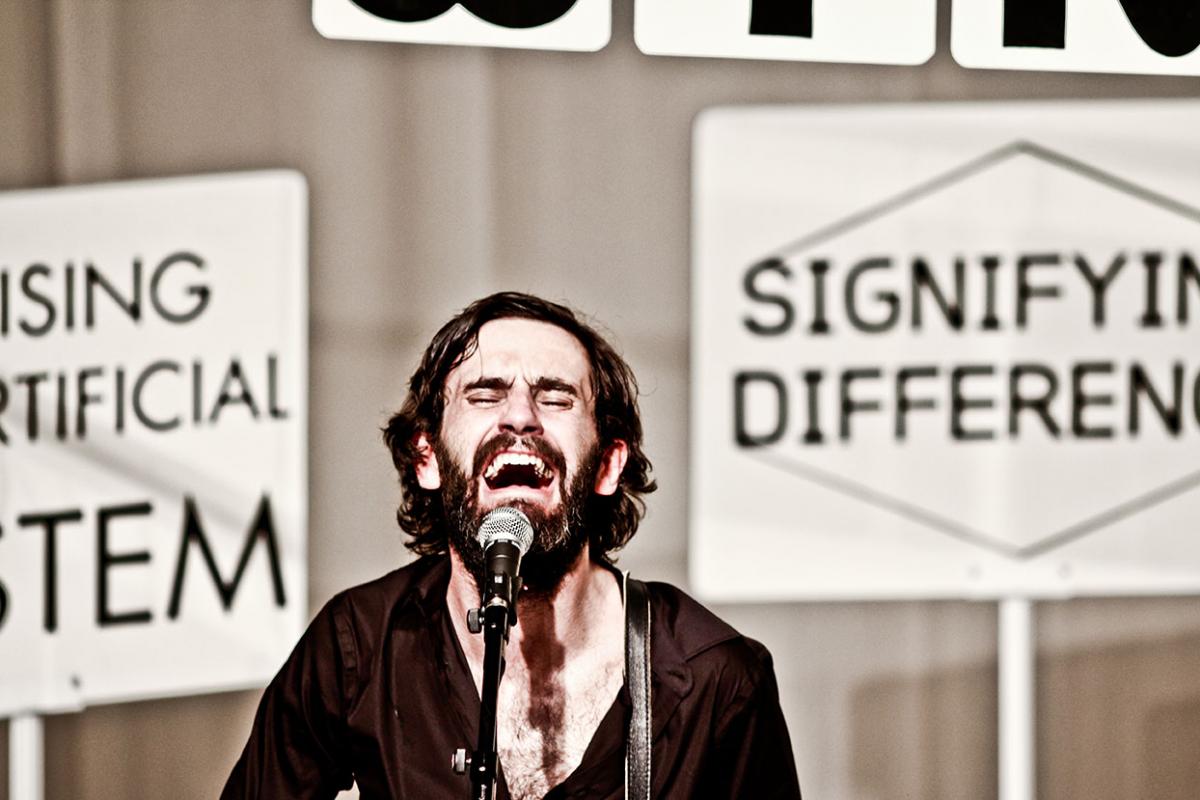 Hello flow (Breath) Hello flood (Breath) Hello deluge...

Click to enlarge
watch video
2012
Performance, Various running times, 2012. Written and directed by Orla Barry. Performed by Derrick Devine, Marcus Lamb, and Einat Tuchman. Commissioner: Eva Wittocx
Credits
Commissioned and produced as part of Corpus, international network for performance practice. Corpus is co-founded by If I Can't Dance, Amsterdam, Playground (STUK & Museum M), Leuven and Tate Modern, London, and is supported by the Culture Programme of the European Union and Culture Ireland.
Premiere
Playground, STUK Kunstencentrum and Museum M, 8/9-11-12
Tour
If I cant dance. Veem theatre, Amsterdam, 25/26-01-2013
Bozar, Installation, 28-02-2013-05-05-2013
Bozar, Performatiek, Kaaitheatre, performance, 27-02- 2013
South London Gallery, performance,18-05-2013
Project Arts Center, Dublin, performance, 20/21-06-2014
Production
Corpus/STUK Production: Ilse Van Essche, Ellen Decoodt
Duration
90 minutes to 6 hour performances are possible in theatre, gallery or festival contexts. The work can also exist as a gallery installation with sound.
Press
All of the selections bring about memorable performances. A creepy voiceover recording played over loudspeaker is invoked by "hypnotist", a dance number with canes is what "restrict" invokes, and the word "hovel" causes Tuchman to deliver a monologue about a girl meeting a guy at a bar that takes an unpredictable turn. Each of the three performers deserves great praise. The nature of the show requires them to switch between characters and personalities, and deliver a range of emotional responses in short, controlled moments. The Upcoming, UK
Drie spelers, een verzameling woorden en negentig minuten speeltijd. Veel meer legt de Ierse kunstenares Orla Barry in Mountain niet vast. Het maakt de performance tot een spannende ervaring. Theaterkrant, NL